Gifts for someone going to Paris
By Mathilde Vuillemenot | Last update on August 31, 2023
Is someone you care about getting ready for a Paris journey? They're getting everything ready for their trip with great care, but there are a couple of essentials that often get overlooked on the Paris packing list. These are the perfect opportunities for thoughtful gifts. Make sure to bring a touch of France into their journey with something that's both stylish and useful! Here's my selection of 8 perfect gifts for someone going to Paris.
1. Embracing style: a French beret
The must-have accessory for a Parisian look. For photo shoots, selfies in front of Paris monuments, or just when strolling in Paris. Wearing this beret will immediately give the chic French style your friend is dreaming about. This authentic French beret is very light so it can be worn all year long, whatever the season your loved one or friend visits Paris. Also exists in navy, off-white, powder pink, camel, black, and French blue.
French beret Red - Adult size
Regular price

Sale price

$45.00

Unit price

per
View full details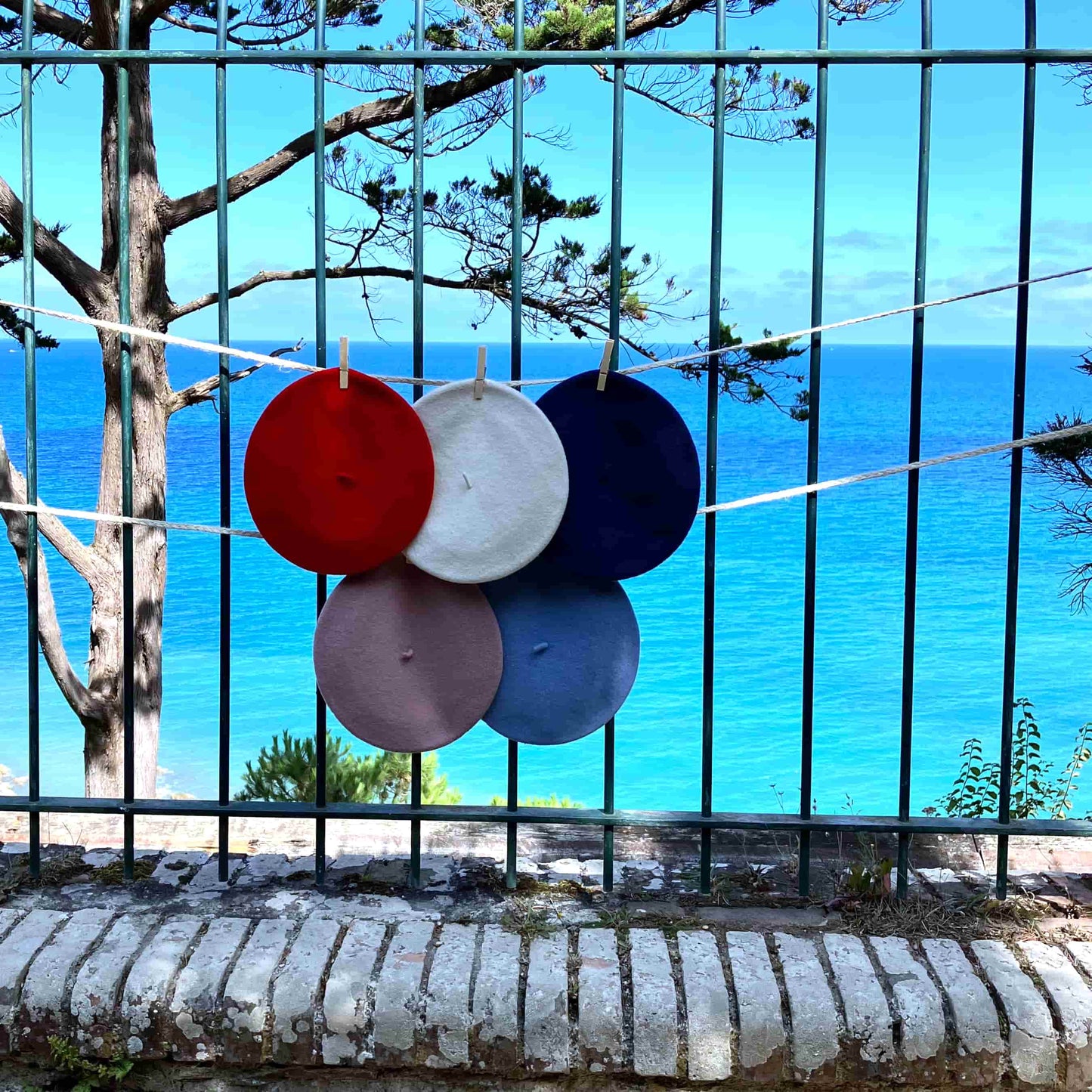 2. Capturing memories: a notebook
Strolling in the Tuileries Garden is a must during a trip to Paris. Sitting on the famous green chairs, observing the gardens, admiring the poetic place… A suspended moment where he/she will be inspired by the magic of Paris and will write down some thoughts on the notebook. And for the ones that won't have the time to wander, the notebook can also be used as a travel diary to keep the best memories of this unique trip.
Parisian shops notebooks (x4)
Regular price

Sale price

$35.00

Unit price

per
View full details
3. Staying organized: a stylish pouch
Where is my passport? Where are the tickets? These are questions we ask ourselves several times a day when we are travelling. And it's always deep in our bag. So, a great gift idea for someone going to Paris is a pouch to keep these little things needed numerous times a day. Discover our lovely leather pouch, designed by a Parisian leather goods brand, Louvreuse. Its refined shape, an envelope, is very practical: it will keep safe and close all the papers and documents needed during the Paris trip.
4. Everyday convenience: a tote bag
A trip to Paris is an intensive travel. Monuments to see, museums to visit, food specialties to taste… Someone going to Paris is sure to walk a lot! Whatever the season, there are 3 essentials for any Paris visitor: 1) Comfortable shoes and a pair of nice shoes (for photos and fancy places) 2) A refillable water bottle to stay hydrated 3) A scarf as weather changes quickly and as a way to dress up. To carry these essentials all day long throughout Paris, the best option is a tote bag. A great idea gift for someone going to Paris! Look at our Paris tote bag, it has a large size and a thick quality fabric with a Paris embroidery.
5. Spotting luggage easily: a luggage tag
There's something we barely buy for ourselves but that is so useful that we're so glad to receive as a gift… If you're a traveler, you may have guessed I'm talking about the luggage tag! Definitely a great gift for someone going to Paris. All the more if it's a luggage tag made in France by a Parisian brand and with the beautiful French words 'Bon voyage' (Have a nice trip) engraved on it. Our luggage tag is in Italian leather and engraved with gold leaf, a pure refined accessory. Also exists in black.
Leather luggage tag - red
Regular price

Sale price

$45.00

Unit price

per
View full details
6. Being prepared for rainy days: an umbrella
Paris weather is variable, and quite unpredictable. Even on a day that starts sunny, rain showers can suddenly appear. The umbrella is definitely needed, whatever the season. This lovely one below is both practical and stylish: perfect to explore the beautiful streets, landmarks, and cafes of Paris... And for an elegant photoshoot under the rain (actually one of the best things to do in Paris when it rains).
Jean Paul Gaultier umbrella - sailor stripes
Regular price

Sale price

$69.00

Unit price

per
View full details
7. Toasting under the Eiffel Tower: wine glasses
The Eiffel Tower is a famous place in Paris that everyone who visits Paris goes to see, whether it's their first time or they've been there before. What about making this visit even more special? There are plenty of spots for a picnic in the garden right under the Tower and in the park outside. These glasses will be perfect to raise a toast in honor of this fabulous trip. Unforgettable!
Paris wine glasses (x2)
Regular price

Sale price

$39.00

Unit price

per
View full details
8. Evoking French vibes: a cosmetic bag
A woman going to Paris secretly hopes to be called 'Madame' with a French accent. Do her this little pleasure and offer her a cosmetic bag with the pretty French word 'Madame'. She will be thrilled to be recognized as such, and even more when you'll tell her the cosmetic bag was made in Paris. Definitely a lovely and practical accessory for her trip to Paris, and for all her future getaways. Lipstick, mirror, fragrance… They all fit in!
French cosmetic bag - Madam
Regular price

$55.00

Sale price

$44.00

Unit price

per
View full details